Reliant car insurance
Compare car insurance quotes for your Reliant
Get a car quote
The Reliant car company was set up in the 1930's on the belief that the days of lightweight three-wheelers were far from over. The company went on to produce the first Reliant which enjoyed some additional success because it was originally exempt from the equivalent of today's Vehicle Excise Duty.
The company went on to build a variety of cars, from economy-based three-wheelers like the Regal or Rialto, to the sportier Scimitar and Sabre. These cars may look very different to more modern cars, but insurance companies will calculate insurance premiums based on a range of factors, which includes value, power and potential repair cost.
With many Reliants now considered classic cars, you may be able to get tailored cover or reduced premiums with a classic car insurance policy
Replacement Reliant parts may be difficult and expensive to find, which could push insurance premiums up
On the plus side, all pre-1973 cars are exempt from road tax, which could save you money if yours was built before then
To start comparing policies and quotes for your Reliant, click the 'GET A CAR QUOTE' button above. We search for policies and prices tailored to you from our panel of insurance providers, to get our best deals to you in minutes.
You can find more information about how your car insurance premium is calculated in our collection of guides.
Founded - 1935
Production ceased - 2002
Headquarters - Tamworth, England

Famous for producing the three-wheeled Robin, Reliant was a British car manufacturer that ceased production in 2002.

Although no longer in production the Reliant Robin can still be seen on the roads of the UK and enjoys a strong cult following. Other models produced by the company include the Kitten, Regal, Scimitar, Rebel, Rialto, Sabre and Super.

Reliant's best known model is probably their Regal Supervan, made famous by its part in the hit TV show 'Only Fools and Horses', though in season 7 of 'Top Gear', the Reliant Robin was converted into a space shuttle in an attempt to make a budget reusable spacecraft (with limited success).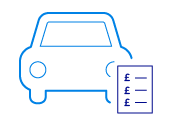 Car insurance calculator
Our car insurance calculator can help you find out the average cost of a comprehensive policy based on our recent price index results.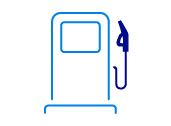 Fuel calculator
How much do you spend on petrol or diesel? Work out the fuel costs for any make of car.