Not all mechanics are out to scam you. But a few bad eggs have sown the seeds of distrust for many by conducting dodgy MOTs and overcharging for repairs to name a few.
We've teamed up with Thomas, a trusty car mechanic, to warn you of some of the garage tricks used by dodgy mechanics to rip off honest drivers.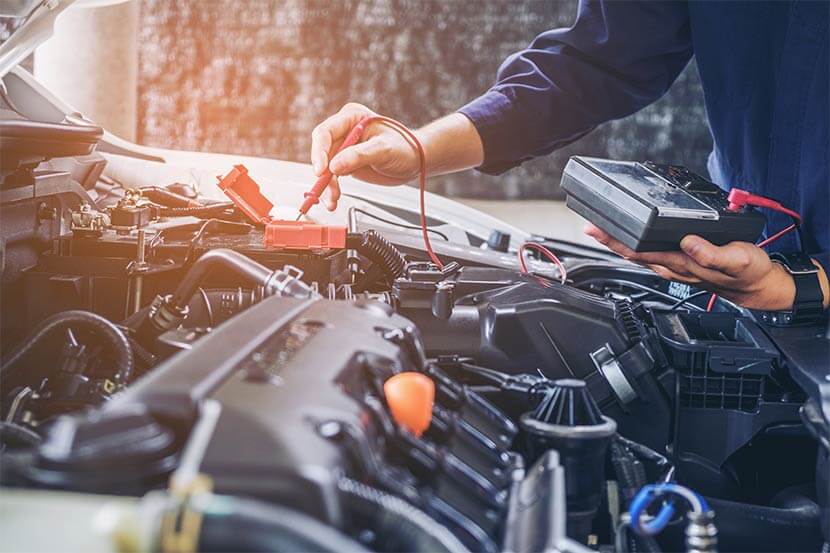 Car jargon
If you know nothing about cars, it can be difficult to understand the barrage of motoring jargon used by mechanics.
Some dodgy car mechanics have even used this mechanic vocabulary to bamboozle drivers into saying yes to unnecessary repairs.
How to deal with car jargon
Don't be afraid to ask questions, however stupid you think they may sound. You're the customer and if they're not happy to explain the repairs, you could take your car elsewhere.
Get the repairs in writing too, that way you can get a second or third opinion and compare garages for repair costs.
Thomas says:
"If the mechanic is using words or terms you don't understand then ask them to explain in plain English.
"Never trust a mechanic that isn't happy to explain your repair to you so you understand."
Overcharging for unnecessary repairs
You've taken your car in to repair a small scratch and it's come back needing a new cambelt and a host of other repairs.
How to avoid being charged for unnecessary repairs
Once a mechanic starts working on your car, they might come across other jobs that need doing. Although these extra repairs could help your car run better, it's worth asking if they're urgent.
If the car is still roadworthy without them, don't feel pressured to agree to them being done straight away. Instead, you can then shop around and look for the best deal on repairs.
Thomas says:
"We hear this one all the time, the car goes in for one repair and ends up needing 3 and suddenly you're spending a lot more than you planned.
"Always ask the mechanic if your car is still roadworthy without the extra repairs."
Charging for used replacement parts as new or not replacing the parts at all
This isn't likely to happen if you've found a reputable garage and have an honest mechanic.
But if you've come across a dodgy mechanic, they might charge for used parts as new or not even change them at all.
How to avoid being scammed over car parts
Ask questions again. Look at the part before it's installed and the old part after they've replaced it. Then get an itemised bill so you can cross check what you're paying for.
You can also ask the mechanic whether the parts are Original Equipment (OE) quality, or aftermarket. OE parts are made by the car manufacturer and so tend to be more expensive.
Thomas says:
"If you're paying for new parts then that is what you should be getting.
"You can always ask to see the part before they're installed and you can even ask to see the old worn part, which most garages will keep."
Being told your flat tyre will need replacing
Often when you get a flat tyre, it does need to be replaced. But if the tyre is in good condition and the puncture is just in the tyre's tread it can sometimes be repaired instead.
How to avoid needless tyre replacement
If you're being told you need a new tyre, ask to see the location of the puncture and assess the damage yourself.
If it does need to be replaced, a quick internet search should bring up a guide price that you can use to haggle.
Thomas says:
"It's true that sometimes the tyre is damaged but as long as the tread is in good shape, most flat tyres can actually be repaired. Especially if the puncture is in the tyre tread and not on the outside wall."
Car fails the MOT with a series of unnecessary repairs
Your car is running perfectly. You take it in for its MOT and it comes away with a long list of unexpected repairs. You're told some of these will be essential for the car to legally pass the MOT.
But before you agree to the work and hand over your cash, not all the repairs may be essential, despite what your mechanic might claim.
How to avoid unnecessary repairs on your MOT
Ask to see your fail report. Remember, the MOT is split into 2 categories - advisories and failures. Your vehicle is still deemed roadworthy if you don't repair the advisories.
These should be seen to eventually, but if they aren't urgent, they may be able to wait until your next pay day.
Some MOT failures could be as simple as changing a bulb on a headlamp.
If you can't change it yourself, then it could be cheaper to shop around and get them changed elsewhere.
The MOT doesn't cover the condition of the engine, clutch or gears, so there shouldn't be anything about them in the fail report.
Thomas says:
"While some of these repairs will be necessary to legally pass the test, your car could still be roadworthy without the others and you shouldn't feel pressured."
What is a dodgy MOT?
Dodgy MOTs are nothing new. They're an illegal practice undertaken by some mechanics to pass vehicles that shouldn't be on the road.
It may be that a mechanic is helping out a friend, or they're doing a favour in return for a sum of money.
Either way if you don't have a legitimate MOT, you shouldn't be driving your vehicle.
If found out you could face a fine or get points on your licence. This could in turn drive up your car insurance costs when you renew your policy.
You can report this kind of MOT fraud to the government anonymously via its website.
Thomas says:
"If anyone even mentions a dodgy MOT in a garage, alarm bells should be ringing and you should take your car elsewhere."
Not all car mechanics are out to rip you off. Thomas says:
"Most mechanics are passionate about cars and customer service. We will show you the same respect that you show us.
"Don't assume a mechanic is out to rip you off - not all car mechanics are crooks, the majority of us have your best interests and your safety at heart.
Compare car insurance quotes
How to spot a good garage
It can be quite confusing to know whether a garage is good for you or not. Justin Smith, Founder of BreakerLink, helps clear this up:
"It pays to evaluate the appearance of the garage before you engage them. If their workshop is clean and tidy then it's a safe bet that they probably extend this mindset to the rest of their business.
"Also, the best way to build a relationship with a mechanic is to try a small job first before jumping in with something like a gearbox change.
p> "Start with something small like a
service
or MOT and see how they perform. If you're happy with the results then this can serve as a good indicator of the quality of their workmanship."
What can you do if a mechanic rips you off?
If you think you've been ripped off, you've paid over-the-odds for something or you're not happy with the job they've carried out, you have options.
The best way to get the problem sorted is to speak to the mechanic, or garage, and try and negotiate a solution.
This is especially important if they still have your car - you need it back urgently.
If the garage is a member of a trade association, you may be able to ask them for help.
There are a number of organisations including:
The Motor Ombudsman
The Retail Motor Industry Federation
Motorcycle Industry Association
But you can only do this if the garage has signed up to the organisation.
If it's a member of an alternative dispute resolution (ADR) scheme, it can help by mediating between you and the mechanic to try to solve the problem.
If you're still getting nowhere, your final option may either:
Pay the cost to get your car back
Think about going down the small claims court route
Can a mechanic legally keep your car?
If you've dropped your car off at the garage to complete some repairs, it has the right to keep the vehicle until they've been paid.
The only option you have is to:
Pay the amount due
Marking the invoice as being 'paid under protest'
Leave the car until you've found a resolution, or to start legal proceedings