The good weather is here and we're all desperate to get away. Don't get caught out by these driving laws.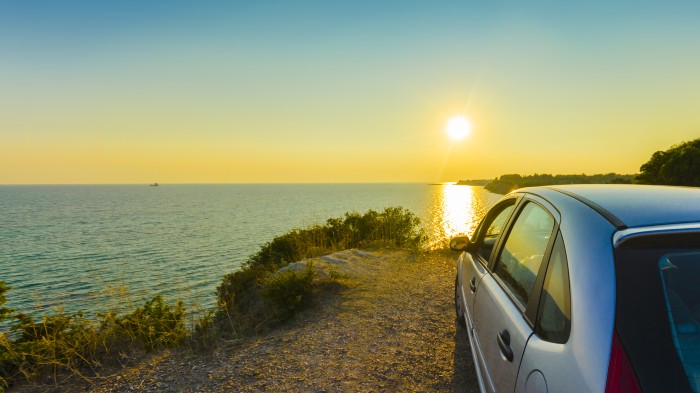 This article contains affiliate links. If you buy any products via these links, we may earn a small commission at no cost to you.
Thinking of hitting the road for a UK holiday this summer?
Make sure you're following these rules in the Highway Code to keep you and other road users safe.
Compare car insurance quotes
Not securing your dog in your car
With the unpredictability of travelling abroad, it's likely more of us are considering staycations this year.
Which might be music (or a friendly bark?) to the ears of our furry companions, as it's easier to take them on holiday with us.
But you need to keep yourself, your passengers and your dog safe.
The Highway Code states that:
"When in a vehicle make sure dogs or other animals are suitably restrained so they cannot distract you while you are driving or injure you, or themselves, if you stop quickly."
To keep them secure, invest in a carrier or a harness. You can pick up pet restraints relatively cheaply online.
Browse pet restraints for your car on Amazon

Leaving your dog in a hot car
You should never leave your dog in the car on a hot day.
While it may seem cool outside, the temperature inside a car soar much higher. Your dog could quickly become dehydrated, get heat stroke or even die if they're left in the car.
If you see a dog in a car at a supermarket, event or shopping centre you should act quickly, even if the dog doesn't seem distressed.
Get the make, model and registration number of the vehicle and write down the location. Once you have this information, ask someone to make an announcement.
You can call the RSPCA emergency number 0300 123 4999 for more advice, or 999 if the situation gets worse.
If you see a dog in a bad way, call 999 immediately.
For more information, read our guide on keeping your dog safe in the car.
Overloading your car
Luggage Tetris is a risky game for holiday makers. But the only prize you could win is a fixed penalty notice of up to £300, and points on your licence.
Every car has a weight limit, and you shouldn't exceed this when you pack your car. You can usually find the weight limit in your car's manual.
Overloading your car could affect your car's handling ability and stopping distance. Too much luggage can also make it difficult to see out of your back window.
It's difficult to exceed the weight limit of most modern cars. If you think your load is going to exceed the car's limit, then it might be worth weighing what you're going to put in.
Make sure you leave your rear window clear so you don't lose any visibility.
These rules apply to trailers too.
Not sticking to caravan and trailer towing limits
Invested in a caravan? Or perhaps you need a trailer for your new luxury tent?
Either way, there are a few rules to follow when you're on the road.
You should only tow what your licence permits. For example, if you passed your test after 1 January 1997, you'll have a restriction on the weight of trailer you can tow.
Make sure it's secured properly and doesn't stick out dangerously, and secure any sharp objects.
When you're packing your trailer, distribute your luggage evenly. Try to keep the heavy objects near the axle. Don't exceed the manufacturer's weight limit.
Sticking to these rules will mean your car and trailer will be less likely to swerve out of control. If you find this does happen to you, make sure you ease off the accelerator and reduce your speed.
READ MORE: Towing insurance and rules explained
Using your mobile phone while you're driving
Many of us will use our phones as sat navs. But message notifications can be an unwelcome distraction.
"You MUST NOT use a hand-held mobile phone, or similar device, when driving except to call 999 or 112 in a genuine emergency when it is unsafe or impractical to stop."
A sat nav could be a good alternative. But don't make unsafe or sudden manoeuvres if you've made a wrong turn and always concentrate on the road ahead.
Check the map before you go so you know the route. If you need to check the map on the sat nav while you're driving, pull over.
Our readers' favourite sat nav* is the Garmin Drive 51LMT-S. You can find it on Amazon.
Check prices for the Garmin Drive 51LMT-S on Amazon
Read our guide on the best sat navs for 2021 for more makes and models.
READ MORE: Mobile phones, driving and the law - FAQs
Hay fever medication
Most drivers should know by now that driving under the influence of drugs is illegal. But even prescription medications can also affect your ability to drive.
The Highway Code says:
"You MUST NOT drive under the influence of drugs or medicine."
For example, hay fever medication like chlorphenamine, hydroxyzine and promethazine, can cause drowsiness.
Check with your doctor or pharmacist to see if you're able to drive on your medication.
If you don't keep to the following Highway Code rules you may not be prosecuted. But if you have an accident and you didn't follow these rules, it could be used against you in court.
Not wearing the correct footwear
Wherever you're driving to, you should make sure you're wearing appropriate footwear.
The Highway Code says:
"Before setting off, you should ensure that clothing and footwear do not prevent you using the controls in the correct manner."
For example, flip flops or a high-heeled shoe would be a no-no, and so would bare feet. You shouldn't wear anything that could slip on the pedals.
A simple way around this is to pack a spare pair of trainers or shoes to drive in.
Not knowing your vehicle's controls
If you've bought a brand-new van ready for camping or if you're hiring one, make sure you know where the controls are.
Before you set off, check the windscreen wiper controls, the indicators and lights. You could even familiarise yourself with the engine so you know where to put windscreen washer fluid or water.
Once you're happy you could try taking it for a test drive down a quiet street.
Not keeping your car cool
Greeted by a blast of hot air when you open your car door? It should be a priority to get your car cool again, for your comfort and safety.
The Highway Code says you should keep your vehicle well ventilated to avoid drowsiness.
To get your car cool, first roll down the windows. If you've got a bit of time you could try fanning your car door back and forth to get the air circulating. Brace yourself for funny looks.
Make sure it's safe to do this. It could be dangerous if you're parked on a busy road or street.
Once your car is at a good temperature, put the air conditioning on. Try full blast at first, making sure you select the external air setting rather than circulation – if your car has this function.
External air shows an arrow entering the car. Circulation has a circular arrow.
Roll up your windows once your car is chilled, this could help reduce your fuel consumption.
Driving on the roads after a sudden summer shower
It wouldn't be a British summer without a rainstorm out of nowhere.
When you're driving after a downpour take extra care, particularly if there's been a dry spell. Water can sometimes sit on the surface of the tarmac, making it slippery.
And as obvious as it sounds, if you're getting dazzled by the sun, pull over. Wearing sunglasses could help, but make sure they don't restrict your view of the road.
*Based on the number of models sold through our affiliate links to Amazon.co.uk between 1 January and 10 June 2021