Having your car impounded by the police is a huge inconvenience, and getting back behind the wheel isn't always straightforward.
You might have to take out specialist insurance just to secure your vehicle's release from the pound, because not every car insurance provider covers cars that are impounded.
We take a look at impounded car insurance, explain when it might be needed, and look at what you need to do if your vehicle gets taken away.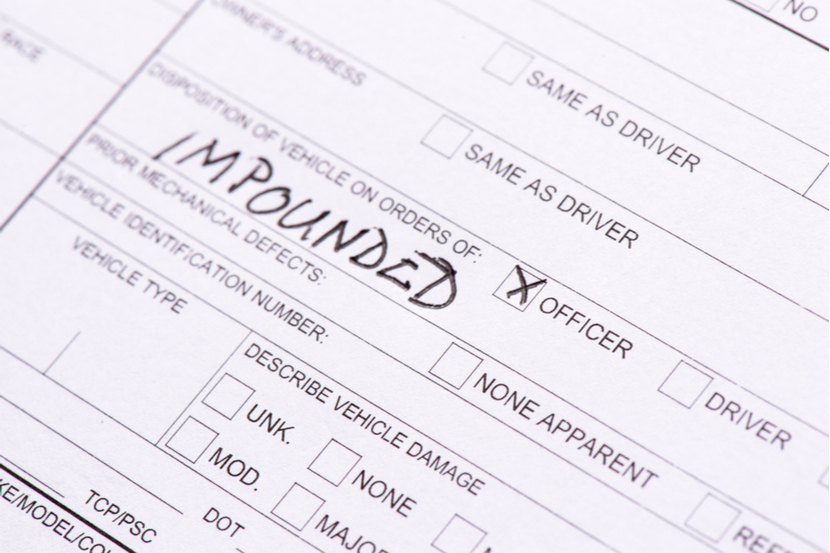 Why are cars impounded?
Your car can be impounded for a number of reasons. Some of these could be your fault, but others might be out of your control.
For example, your car might have been stolen and subsequently found by the police. It would then be taken to the impound to await collection.
Vehicles can also be seized for being driven without insurance, the driver not having a licence, or if the car is causing an obstruction.
Other reasons could include the car having been involved in a collision, used in a crime, parked illegally, or driven in an anti-social manner.
Your car can also be taken away and impounded for not having car tax.
What is impound insurance?
Impound insurance is a short term car insurance policy for a car that has been impounded.
Many standard car insurance policies will not cover a car that has been impounded. It depends on the terms and conditions of your policy and the reason why the car has been impounded.
Impound insurance is a short-term insurance policy which will last for 30 days. Having at least 30 days insurance cover is a condition of the car being released from the impound.
Why do I need impound car insurance?
Many of the reasons a car might be impounded are due to events or circumstances which result in the car insurance being invalidated or cancelled.
To release the impounded car you need to prove you have at least 30 days insurance for the vehicle.
But impounded cars are seen as high risk by insurers and if you can find an annual insurance policy, it could be costly.
This is where impound car insurance comes in.
Can I get a temporary insurance policy for my impounded car?
Yes, you can buy temporary car insurance for your impounded car. You can buy short-term policies that provide cover for as little as 1 hour to a month.
Select 'Impound insurance' as the reason for your cover when comparing temporary car insurance through Confused.com.
Compare temporary car insurance quotes
While policies vary, they generally offer a comprehensive level of car insurance cover. This means you should be covered for damage to your own vehicle as well as those of other drivers.
These schemes are usually bought to let someone else to drive your car on a temporary basis. However, premiums are likely to be comparatively expensive.
Remember, the policy must permit the release of the vehicle from a police pound.
The police seized my car, how do I get it back?
If your vehicle has been impounded, you should get a notice letter when it's ready for collection, according to Essex Police.
The first step is finding out where your car has been taken. If you're not sure then, ring 101 and ask for your local police station to establish where it's been taken.
It is important to clarify with the police exactly what's required and what you need to do in order to reclaim your vehicle.
Broadly speaking, getting your car back requires you to supply a number of original documents and follow set guidelines within a fortnight of it being taken.
You also have to pay fees and ensure your existing car insurance policy covers you for the car to be released from the pound.
What are the legal requirements if my car has been seized?
You're legally required to attend the recovery operator's pound within 7 working days of your vehicle being seized.
However, you must always call the recovery operator before attending the pound to ensure the vehicle's ready to collect and isn't being held for further investigation.
You also need to check opening times.
The vehicle must be collected by the registered keeper – with the correct documents brought at the time – within 14 days.
If these requirements haven't been met after this deadline, then the police could dispose of your vehicle. Extensions are rarely given.
What documents do I need to reclaim my vehicle?
You need to take a number of documents to the police station to get the ball rolling on the release of your vehicle.
The first is either the seizure notice issued at the roadside or, if applicable, the penalty ticket that was given to you, according to Sussex Police.
Then you need to prove who you are:
Proof of identity: A valid photo ID is required. For example, this can be a passport, driving licence, EU national identity card or immigration document.

Proof of ownership

: You also need to prove ownership. This could be either the

logbook (V5C)

or a new keeper supplement (V5C/10) along with a verifiable bill of sale.

MOT: If the car is over 3 years-old it needs to have a valid MOT. If not, it needs to be recovered on a trailer or taken directly to a pre-booked test appointment.

Insurance certificate: You also need to provide proof of insurance. However, not every policy covers you for the car being impounded. Therefore, you first need to read the small print. If it's still unclear then ring your insurance company to clarify the position.
Payment of fees: What fees do I need to pay for my seized vehicle?
There's usually also be a fee to pay before the vehicle can be released.
These charges are set by the government – not the police – and depend on the weight and condition of the vehicle.
In most cases where the vehicle isn't badly damaged or off the road, the charges are:
Two-wheeled vehicles: £150 removal charge and £10 per day storage.
For cars and light vans, it's £150 removal charge and £20 per day storage.
A full list of fees are available on GOV.UK.
What happens if I'm not the registered keeper?
It's the responsibility of the registered keeper to attend the pound to provide the required documents and pay the charges.
Only then can the pound's staff consider allowing a nominated driver to collect the vehicle on your behalf.
There are only be a handful of circumstances in which the registered keeper may be excused from appearing in person, according to Essex Police.
These may be that they're not currently in the UK, in which case a power of attorney letter might be required.
Other instances include them being detained in either hospital or prison, both of which would require letters on headed notepaper from the institutions as proof.
Finally, a request for exclusion on the grounds of immobility, due to age, injury or disability, can only be made with a letter from a health care professional on headed paper.
Again, check with the police on the details of when you can collect your car.
Be warned: Your vehicle could be disposed of if it hasn't been collected after 14 days.
Can I collect property from an impounded car?
Yes, this is possible. You should be able to collect property within the vehicle, without collecting the car itself.
However, the term 'property' doesn't include any item fixed to the vehicle such as alloy wheels or the audio system.
In addition, property is only returned when the vehicle is no longer required for examination – and only to set people.
These are:
The registered owner/keeper.

The driver at the time of seizure.

Anyone who can prove ownership of the items being collected. Valid photo ID will need to be shown in all cases.
My car has been seized for having no insurance, how do I get it back?
If your car was seized because you weren't insured then you might find it tricky to arrange cover. This is because some insurance companies won't cover impounded vehicles.
It's also worth bearing in mind that policies for this purpose are unlikely to come cheap. Therefore, it's worth shopping around to find the cheapest impounded car insurance. You can compare impounded car insurance policies through Confused.com, by selecting 'Impound insurance' as your reason for taking out temporary car insurance.
What happens to my car if I don't pay car tax?
Every vehicle in the UK must be taxed if it's used – or kept – on a public road. If it's being kept off-road, then it doesn't have to be taxed but a Statutory Off Road Notification must be in place.
If it's not taxed then you're running the risk of your car either being wheel clamped or impounded by NSL Services Ltd. This is the organisation that carries out enforcement on behalf of the DVLA.
Not only will you have to pay car tax – or a deposit – but you could also be hit with release fees. To get a clamp removed – or the car released from the pound within 24 hours – costs £100.
If it's more than 24 hours then the release fee doubles to £200, with storage charged at £21 a day. So be quick otherwise the costs could soon start mounting up.
What shall I do if my car is clamped?
The first step is to tax your car. This can be bought online, at a Post Office, or on the telephone via a 24-hour hotline: 0300 123 4321.
If you don't tax the vehicle before you get it released, you need to pay a deposit that's known as a surety fee. This is £160 for motorcycles, light passenger, and light goods vehicles.
However, you may be able to claim a refund for this payment by taxing the car and confirming it's been done to an adviser – within 15 days. They can be reached on 0343 224 1999.
Then you need to pay the release fee. For this you need the 8 digit enforcement notice number – which is on the INF32 leaflet left on your vehicle, and the car's registration.
You also need a valid credit/debit card to pay over the phone on 0343 224 1999 or online.