Romania is one of the most scenic parts of Europe and there is a wide range of architecture and beautiful landscapes for drivers to explore.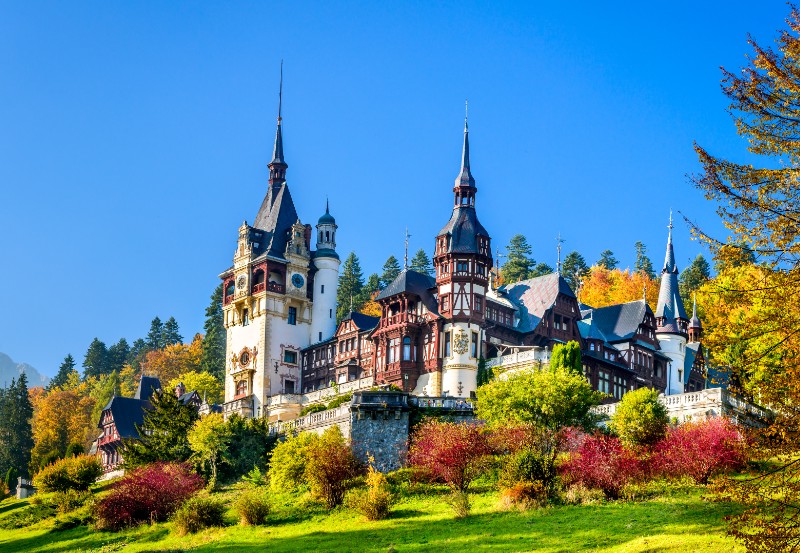 So what do you need to know if you're travelling to this part of Eastern Europe in your car?
Driving in Romania checklist
First up, you need to know what kit and documentation you have to take with you.
In most cases, these are legal requirements. If you fail to carry the right equipment, for example, you could face a fine.
If you're travelling across Europe before entering Romania make sure you know about traffic laws and customs in each country you pass through to avoid falling into a holiday motoring trap.
Documents you need for driving in Romania
• A valid and current UK driving licence.
• Evidence that you have valid car insurance for your trip.
• Proof of your ID, for example your passport.
• Proof that you own your vehicle such as the V5 registration certificate.
• If you're driving someone else's car, you'll need written confirmation from the owner that you're allowed to drive the vehicle.
• You'll also need a 'Rovinieta' – a road-tax disc or 'vignette' – which is obligatory for both residents and visitors. They can be picked up at the border as you enter the country as well as at most petrol stations. If you can't show evidence you bought one when you come to leave Romania, you could be landed with a fine of up to €4,000 (£3,400). You can also buy a Rovinieta online, and can decide in advance how long you'd like it to be valid for.
Compare car insurance quotes
Safety equipment
Some of these items may already be in your breakdown kit, but you should have:
• Anyone involved in a breakdown or accident should have a reflective jacket to wear.
• You'll need a warning triangle to be used in the event of a breakdown or accident.
• Headlight beam deflectors must be fitted in advance so you don't dazzle oncoming drivers. You may also need to adjust your headlights to reflect the fact you'll be driving on the right in Romania.
• All cars on Romanian roads must also carry a first-aid kit and a fire extinguisher – even those which are registered in other countries.
Romania driving laws
If you're heading to Romania, you'll need to be at least 18 to drive there.
The driver and all passengers should wear seatbelts while in motion.
You should use dipped headlights when driving outside of urban areas during daylight hours.
Children under 150cm tall (roughly 4'11") as well as those aged under 12 must travel in a child seat or restraint which is appropriate for their weight.
Children under 12 must not travel in the front seat of any car which also has rear seats.
It's against the law to drive a dirty car in Romania.
While definitions of 'dirty' may vary from one police officer to the next, it might be worth having a clean-up at a petrol station car wash.
Either when or just before you enter the country – especially if you've just trekked all the way across Europe.
Drink-driving laws in Romania
The rules on drink-driving are very simple in Romania: there is no minimum acceptable blood-alcohol limit.
This is much stricter than the UK drink drive limit, so if you drink any amount before getting behind the wheel you risk being arrested and fined.
Traffic laws in Romania
As with the rest of continental Europe, you drive on the right and overtake on the left when driving in Romania.
Priority should be given to vehicles coming from the right – although on roundabouts, any cars already on the roundabout have the right of way.
If you're driving in the mountains on narrow single-vehicle roads, priority should be given to vehicles heading uphill.
In the case of traffic offences, the police can impose on-the-spot fines on drivers of cars which are registered outside of Romania, and they have the power to collect half the total fine right away.
You'll get a receipt for this, but you should be sure to carry enough cash in case you are penalised in this way.
In some cases, fines can be reduced if they are paid promptly.
Parking in Romania
You should park on the right-hand side of the road, ie on the near side according to the direction of travel.
If you park illegally, you can be clamped and/or towed as well as fined.
Romanian speed limits
| ROAD TYPE | SPEED LIMIT |
| --- | --- |
| Residential areas | 50 km/h |
| Built-up areas | 50 km/h |
| Outside built-up areas | 90 km/h |
| Dual carriageways | 100 km/h |
| Motorways | 130 km/h |
Limits are reduced by 10 km/h if towing and 20km/h if you've held your licence for less than a year.
Driving in Romania after Brexit
The UK is no longer part of the European Union, while Romania remains a member.
If you're visiting the country on holiday or for a short business trip, you shouldn't notice any huge differences.
That said there are a number of issues to be aware of.
UK citizens are allowed to travel to countries in the Schengen area without a visa for up to 90 days in any 180-day period.
This area covers the EU including Romania as well as some non-EU European nations like Switzerland and Norway.
Passport requirements are slightly stricter after Brexit.
Now you'll need at least three months left on your passport after your scheduled departure date from Romania.
Your passport should be less than 10 years old too.
Since early August 2021, British drivers have not been required to carry the 'green card' proof of insurance when entering Romania.
But evidence of current motor insurance – including an extension or clause that permits driving in Europe, if necessary – is required.
Up until 28 September 2021, vehicles from the UK driving on roads in Romania need to display a 'GB' symbol.
This is either as a sticker on the rear of the car, or as a part of their registration plate.
After this date, however, the requirement changes.This means that a'UK' symbol or sticker is required instead of a 'GB' one.
So even if your car has a GB licence plate, you'll still need to affix a UK sticker to your vehicle.
Read our guide on European travel in 2021 for more information about driving in the EU.
Can I drive to Romania during the coronavirus pandemic?
Restrictions on international travel have changed on a regular basis during the pandemic.
It pays to check the latest rules both when you are booking a trip and regularly up until your departure date.
The government website has specific travel advice for Romania.
This currently covers issues such as the isolation and testing requirements for travellers arriving there as well as returning to the UK from Romania.
Remember that if you're planning to drive from Britain to Romania during the pandemic you will have to pass through several other EU member states on route.
You'll need to comply with their coronavirus requirements as well.
And you'll need to adhere to each country's driving laws, too.
For example, when driving in France, you need to display an air pollution sticker.
Speed camera detectors are also illegal in France, which is the case if you're driving through Spain, too.
Quiet roads in Romania
Although there are around 125,000 miles of roads in Romania, only a third of them are properly paved or surfaced.
There's only roughly 300 miles of motorway too, roughly one-eighth of the total in the UK.
As a result, there are fewer than four million cars in Romania.
Britain has more than 30m cars, by way of comparison.
Just keep an eye out for the horsepower, horse-drawn carts are still commonplace especially in more rural areas of Romania.
Romania's star drive
Ask most people about Romania and Transylvania and Dracula are likely to spring to mind.
And certainly, the central regions have some stunning forests and medieval castles.
But one of the most popular and rewarding regions for drivers to visit is the Romanian Riviera.
More than 400 miles of coastline along the Black Sea, which offers stunning beaches, spectacular drives and balmy temperatures in the summer months.
What else does Romania have to offer?
The Carpathians is one of the longest mountain ranges in Europe, and Romania shares them with its neighbours Hungary, Serbia and Ukraine.
The mountains extend in an arc that measures almost 1,000 miles, with peaks rising over 8,000 feet in the Romanian areas. The city of Braşov is at the heart of them.
If you're lucky enough to visit, you can swap your vehicle for a cable car to take you to the top of Tâmpa Mountain.
You'll experience incredible views over Braşov and across the Carpathians.
From there, head to Bran Castle to check out Dracula's home.
If you're feeling active, Prahova Valley – just 60 miles from the capital city of Bucharest – offers excellent skiing during the colder months.
Can I drive with a UK licence in Romania?
Yes, a full, current UK licence will entitle you to drive on Romanian roads.
Do I need an IDP to drive in Romania?
Now, you do not need an international driving permit (IDP) to drive in European Union member states if you're from the UK.
You must have a photocard driving licence though.
Is it easy to drive in Romania?
There is a wide range of roads and landscapes in Romania, and driving in some areas is easier than in others.
In rural areas there are a lot of unpaved roads, as well as narrow, twisting highways in the mountains.
In cities such as Bucharest, the capital, traffic can be heavy while the road layouts and signs are often confusing for visitors.