Car insurance for disabled drivers
From getting car insurance to accessing parking, we look at some of the schemes available to disabled drivers, as well as some of the challenges faced.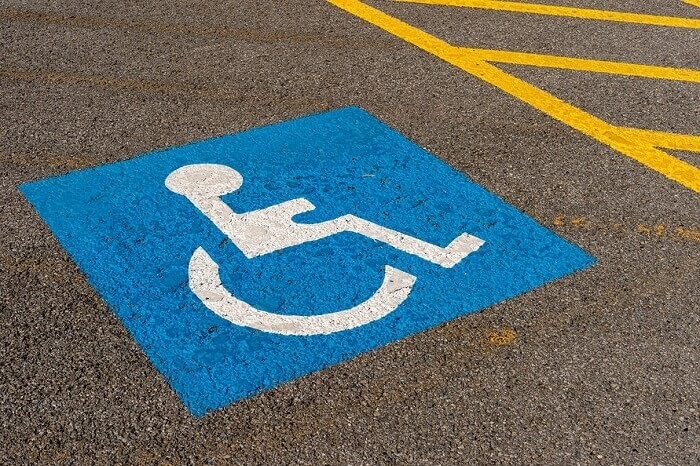 Blue Badge Scheme
The Blue Badge Scheme is a nationwide arrangement that helps disabled drivers access parking, offering concessions and even free spaces in some instances.

Despite helping many disabled drivers, the scheme is often open to abuse.

Heidi Wright works at Disabled Motoring UK, a charity that campaigns for disabled drivers, passengers and Blue Badge holders.

"A common problem is non-Blue Badge holders parking in disabled parking bays, meaning that a genuine Blue Badge holder finds it harder to find a suitable parking space," she says.
'Fake or stolen badge'
"The person could be using a fake or stolen badge, a relative or friend's badge, or simply not display any badge at all.

"Disabled people have limited transport and parking options," Heidi adds.

"So if there's not a vacant disabled parking bay available, they'll often simply have to return home without completing the task they set out to do."
Refuelling at petrol stations
Another common challenge faced by some disabled motorists is independent refuelling at petrol stations.

As advances in technology enable more and more severely disabled people to drive a vehicle, this new independence can be limited if they need assistance to refuel.

"Many petrol stations have no instructions available on how a disabled person should ask for assistance," says Heidi.

"Or what assistance they will get if they manage to get the attention of a member of staff in the petrol station."
'Honking horns and flashing lights'
"Common methods used by the disabled community are to honk their horn, flash their lights or wave their Blue Badge," she says.

"Many petrol stations only have one member of staff manning the station, so are unable to come out to assist a person in refuelling.

"Even if a person can get the attention of staff, there's no guarantee they can get the assistance they need. "
Car insurance for disabled drivers
Getting car insurance has been another area in which disabled drivers may have encountered problems in the past.

"We've heard of disabled people finding it difficult to find car insurance at a reasonable cost," says Heidi.

"The main reason for this is that as soon as the 'modification' box is ticked, car insurance companies often assumed it's a 'boy-racer' trying to get insurance."

Common modifications include push/pull hand controls that operate braking and accelerating; left-foot accelerators; and hoists to help disabled people load their wheelchair or mobility scooter into the boot of their vehicle.
'Advice is to shop around'
Matthew Bolton is a car insurance expert at Confused.com.

"The insurance industry is improving when it comes to offering competitive car insurance to disabled drivers," he says.

"And specialist insurers, which offer policies for people with mobility issues and disabilities, do exist.

"However, disabled drivers may still find their premiums pushed higher due to car modifications.

"This is because a car with modifications – regardless of their purpose – tends to cost more to repair or replace in the unfortunate event of an accident than an equivalent car without any.

"Our advice to disabled motorists, as it is for all drivers, is to shop around for car insurance to ensure they're getting the most competitive price available."
Motability scheme
Another scheme commonly used by disabled drivers is the Motability Scheme.

This enables disabled people to exchange their mobility allowance to lease a new car.

"Motability is a great scheme that can offer disabled motorists great value for money if they wish to lease a vehicle," says Heidi.

"It's very much a 'just add fuel' scheme – as insurance, servicing and breakdown cover are all included.

"There's also a great selection of vehicles available, so the customer is sure to find one which suits their needs. "
Some drawbacks to be aware of
Despite Motability's success, there are some drawbacks to be aware of, says Heidi.

"The scheme is very popular, but some people chose not to use it as they prefer to own their vehicle.

"A drawback to the scheme is that – in order to qualify – you have to be in receipt of a specific benefit.

"If you become disabled after the age of 65, you won't be eligible for the qualifying benefit so won't be able to access the Motability scheme."

For more information on the range of schemes available, and to see how the charity is tackling issues affecting disabled drivers, visit the Disabled Motoring UK website.